Description
Zorro |

Kids's

Costume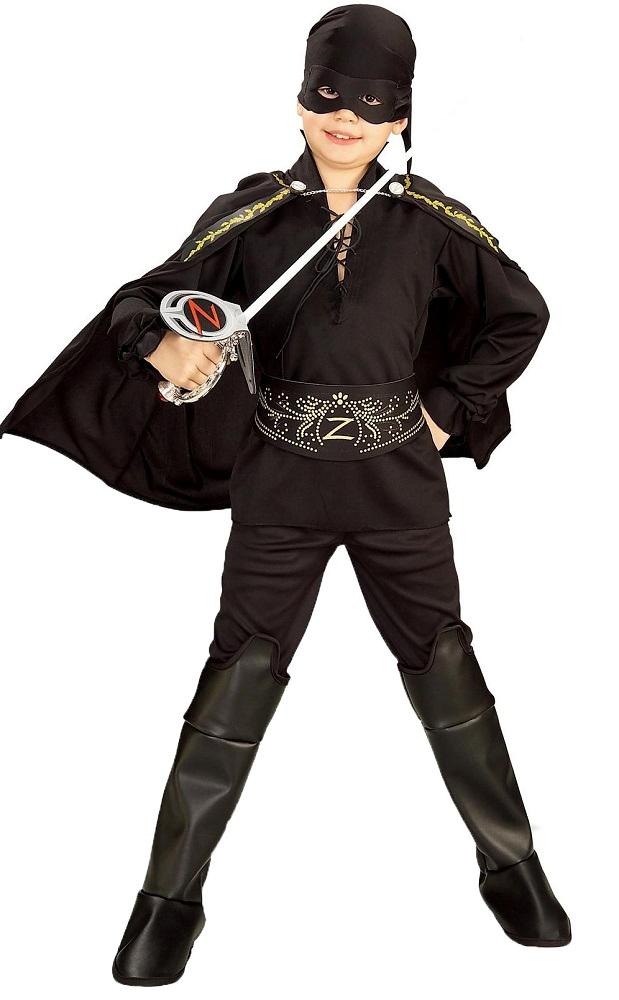 This Kids Zorro Costume is
a licensed costume and comes complete with a long sleeves black shirt that
features lace up detail, black pants with elastic waist and attached knee high
boot tops, black cape with gold leave detail & chain, black bandana with
attached eye mask and a black belt with gold print detail. The costume is
perfect for book week or any kid's fancy dress party!
Includes the following:
Pants with attached boot tops
Shirt
Cape
Bandana with eye mask
Fabric Content

Fancy Dress Land Pty Ltd accepts the following methods of payments:
PayPal

Bank Transfer

Cash Deposit (at any Westpac Branch)
We also accept over the phone payments with any valid Debit or Credit (Visa and MasterCard only). If you wish to do so please contact our office on (02) 9997 2488 (Mon – Fri 9:30am to 4:30pm).
Note: Payments made with a debit card through PayPal take up to 5 business days to clear.
Domestic Shipping
This item will be shipped with our express courier

Next Business Day delivery to most suburbs within Australian Captial Cities

Up to 3 Business Days to suburbs or locations that are classified as being regional

We do not deliver to PO Boxes or Locked Bags. Please ensure to leave a valid Business or Residential address
Note: for express shipping within the above time frames, all items must be purchased and paid for prior to 2pm (weekends and public holidays excluded)
International Shipping
This item will be shipped with the Registered Airmail

Estimated delivery time is between 7 and 10 business days

Up to 3 Business Days to suburbs or locations that are classified as being regional
Shipping FAQ's
Q. I live inside the Express Post next day network, if I pay today can I receive this tomorrow?
A. If you purchase and pay for any item in full prior to 2pm on any business day we will dispatch your order in the post. If the next day is a business day than you should receive this item. There are sometimes unforeseen circumstances which occur in the delivery process which can result in the item not being delivered next business day. For this reason it is STRONLY recommended that you do not leave your purchases to the last minute!
Q. I live outside the Express Post next day network, if I pay today can I receive this tomorrow?
A. Unfortunately NO. If you live outside the express post network than to be on the safe side you are best to allow for 3 to 4 business days for delivery.
Q. I need this item tomorrow and I am not sure whether it will reach me in time. Should I buy this and hope for the best?
A. NO. If you are unsure of whether you are in a next day delivery network please contact us prior to purchasing the item.
Q. Can I pick up my item?
A. YES. We do allow our buyers to collect goods from a warehouse on the Northern Beaches (Sydney). Please contact us on (02) 9997 2488 to arrange collection.
Q. Who is your Express Courier?
A. We use Star Track Express.
Q. Do I have to be at home for the delivery driver to be able to deliver this item?
A. NO. You do not have to be home. The courier will leave this item at your front door or in a secure location. If for some reason the courier does not feel that it is safe to leave the package or can't gain access to the security premise than the item will be taken to your nearest Post Office.
Q. Can I track my parcel?
A. YES. You will receive an email to your email account linked to eBay after your order has been dispatched. You can track your item online through the Star Track website www.startrack.com.au.
.
Returns
Please read the following 'Returns Policy' thoroughly and carefully prior to purchasing an item
Our Guarantee…
We aim to give all our buyers a 100% accurate description on all our items being sold, which includes genuine images of our items being sold. Therefore 'What you see is what you get', and the descriptions used in the listings provide an accurate detailing of the product and whats included with the product being retailed. We also pride ourselves in providing only quality fancy dress costumes and accessories, and as a result we are highly confident that our buyers will be satisfied with their purchase.
Returns Policy
Please refer to to the returns tab located in the menu bar of this listing or in our store.

Feedback
Fancy Dress Land Pty Ltd is 100% committed to the quality of our product and customer service. If you have any issues or concerns with your purchase please do contact us prior to leaving feedback as it is not recommended to leave negative feedback prior to having an issue resolved.
Note: any buyers who who threaten feedback extortion (that is, suggest leaving negative feedback to get their way) will be reported to eBay.
.
Contact Us
If you have any questions or concerns please contact us via eBay email or alternatively you can contact us via phone on (02) 9997 2488 (Mon – Fri 9:30am to 4:30pm)